As one of the countries with the developed Internet, Japan has outstanding achievements in the fields of internet, film, game, and anime. Due to popular games and animes, Japan has become one of the most popular VPN locations in the world.
Nintendo is a famous game company in the world. Once a new game is launched, players will be very excited. For example, "Final Fantasy", in addition to Japan servers, there are also international servers. International servers mainly serve players outside of Japan. How to play Japan servers outside of Japan? Many players choose to use Japan VPN to enter the Japanese website.
Due to licensing rights, some Game agents are obliged to limited their contents to a specific nationality. Once the user IP is not the local IP, the game account will be blocked. In the same way, watching Japanese TV dramas and Japanese anime will also be restricted. As a result, the demand for Japan VPN has increased. You only need to use a VPN to change your IP to Japanese IP, you can browse Japanese websites like local Japanese users. VPN can also help Japanese users browse global websites.
It is recommended to use FlyVPN. It not only provides the Japanese IP address but also protects the user's privacy and avoids being collected by the corresponding browser.
How to use FlyVPN to access a Japanese website?
1. Google searches for FlyVPN and opens the website
2. Click VPN Apps, FlyVPN support Windows, iOS, Android, Mac, Linux and other devices. Download according to your system.
4. Select free Japan server, click connect option. Visit the a Japanese website easily
Japan VPN, why choose FlyVPN?
1. Enjoy the Internet with no restrictions. FlyVPN offer access to more than 30 of the most popular countries. No matter where you are, you can easily enjoy the Internet with no restrictions and anonymous access to the entire Internet.
2. Your online activity will be encrypted with 256-AES bit technology. It would take thousands of years for even the top hackers to break. That means you can enjoy total privacy and security.
3. Unlimited network data transmission. FlyVPN servers have no bandwidth or traffic restrictions. While browsing the web, watching videos and playing games, it brings you the ultimate Internet experience.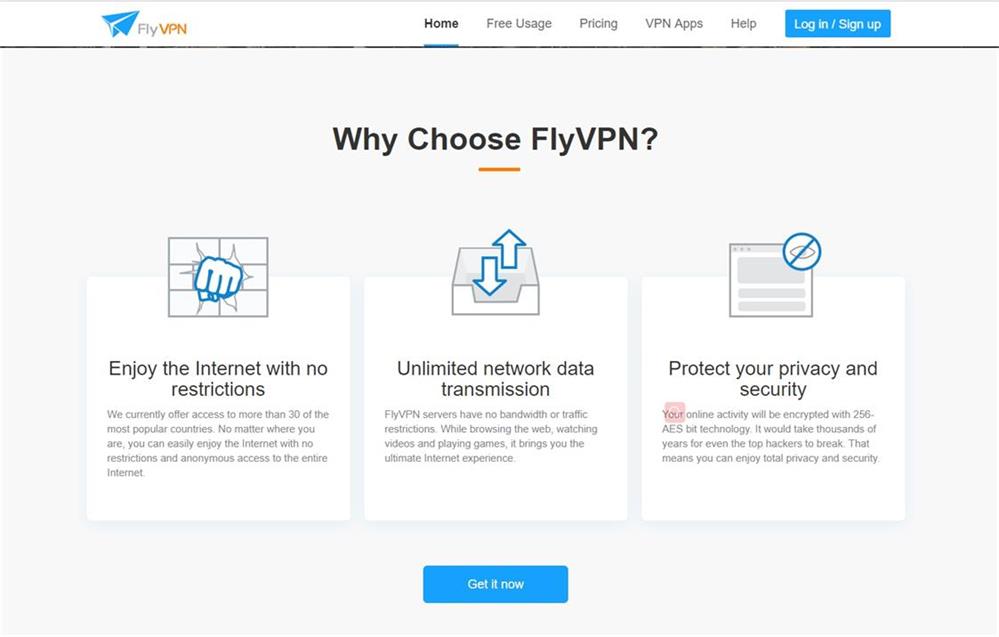 What servers does FlyVPN have?
FlyVPN has servers all over the world. Connect the world with one click, and there are numerous free servers.